My First Real Post/Review - LUSH's Angels on Bare Skin
0
Blogging has always been something that's been in the back of my mind, but I only first
really
started thinking about doing it was because of this product. I've never had such great and instantaneous results with any other facial exfoliater!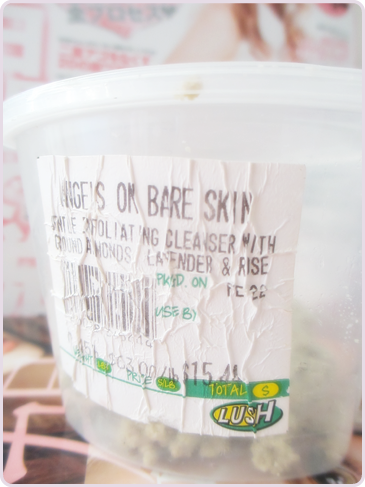 Sorry the picture isn't great! I've put it to good use, and the sticker is all wrinkled from moisture.
Back during the wintertime, I ended up having some dry, flaky skin on my face, because of the cold weather. I bought LUSH's
Angels on Bare Skin
as a somewhat spur of the moment thing. I was at the mall and passed by the LUSH store, which I've always heard good reviews about but had never purchased anything from there. I decided to give it a shot and told the (super nice!) employee working there what my problems were (dry skin), and she knew exactly what to show me. She demonstrated how the product worked, as it's actually dry and kind of chalky before you add a little water into it. Once you've added just enough water into it so that it turns into a kind of paste, that's when you should start exfoliating with it.
I went home that night and did exactly what she taught. Usually, I'm pretty skeptical when it comes to exfoliaters, because I've never tried anything that worked great with my skin. The product was
so
gentle that I didn't think it was working. I got out of the shower, checked my face to see if there were any skin flakes, and there were
none
. I thought "
Ehh
, maybe it's just the moisture from the shower and the flakes just aren't showing up yet". I waited for my skin to fully dry and checked again. There was
literally no patch of dry skin on my face
, anywhere. Did I just find my holy grail?! I'd like to think so!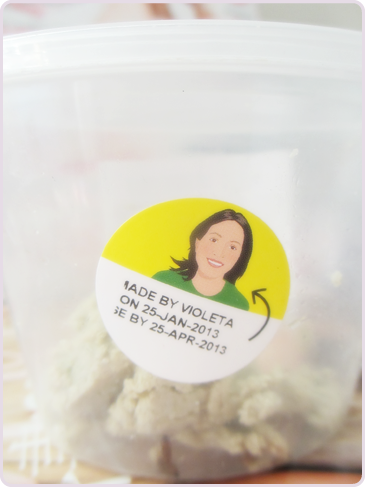 As for the packaging, I really liked how it was packed in the small, clear container! It's a perfect size to stick in my shower caddy, and the cap is great for keeping moisture out (it's also a nice little shelf for putting my fake eyelashes on, when I take them off in the shower LOL). The front sticker shows how much product you got, and
when
you bought it. Through the wrinkles, you might be able to see that I bought it back on February 22! On the back, it shows who made it (since LUSH is all natural and handmade), along with the date it was made on and the expiration date. As you can see, mine should've all been used up already, but I still have a ton of product left- and I used to use it almost everyday for 3 months! Sometimes I don't know when to throw out old products, so I think it's great that they have this sticker system.
TL;DR

Pros
☆ Works! Takes off all the dry skin
☆ Very light, lavender smell
☆ Super gentle and non-scrubby
☆ Good packaging
Cons
★ A little expensive? But you can choose how much you want and what's good for your budget.
★ Consistency takes some getting used to
★ Might not be able to use all of it up by the expiration date!
I honestly can't think of any other cons. Hope this review was helpful and thanks for reading!